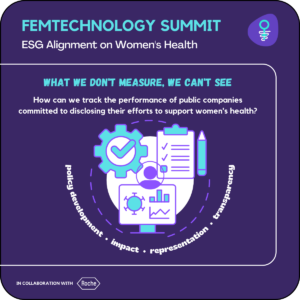 Ever since ESG (Environmental, Social, Governance) became a governmental priority, people have increasingly started thinking about the under-representation of women in business, science and clinical trials, resulting for instance in the passing of the EU's landmark 40% quota for women on corporate boards. However there are still no frameworks for quantifying how much and who supports women's health.
This is a missed opportunity. Working women can boost productivity, increase economic diversification and income equality, and support economic resilience. For example, if all women did not or could not work for a day, the resulting GDP loss in the US would amount to $21 billion. Families rely on women, who make up 66% of family caregivers, as caregivers. However, unhealthy women, such as those struggling with endometriosis (1 in 10), PCOS (1 in 2-25), and menopause (all women who have menstruated), may struggle to keep others healthy. The new focus on ESG alignment can and should be leveraged to make women's health a priority within governance and provision frameworks.
So how should companies approach this? We cannot improve what we do not measure. Therefore, when collecting and analyzing data in the context of ESG analysis, there are a few considerations that should be made, including:
Measure what matters: ensure that measurements reflect corporate priorities that are explicitly tied to health outcomes.
Standardize measures: adopting existing measurement systems can reduce the overall cost of data collection, allow for comparability, benchmarking, and the creation of learning communities.
Metrics should align with specific programs and anticipated results to achieve the targeted health equity outcome.
Identify current data sources to inform the metrics, and then determine what key data may be missing. Explore low-lift ways to obtain that data.
FemTechnology Summit – ESG Alignment on Women's Health
In collaboration with Roche, the FemTechnology Workshop on ESG Alignment on Women's Health raises the question of why there are no frameworks for quantifying the amount and type of support for women's health, and how we can prioritize women's health in ESG frameworks.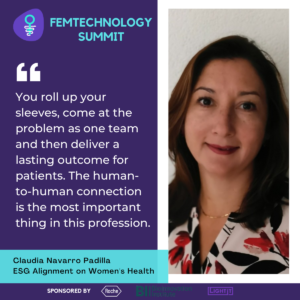 We are excited to announce that Claudia Navarro Padilla, the Chief of Staff for Life Sciences and Healthcare at Deloitte, will facilitate the FemTechnology Summit Workshop on ESG.
Join us in Basel, Switzerland June 6th and 7th!