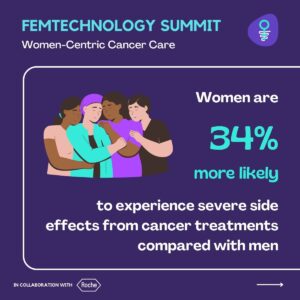 Women are 34% more likely than men to experience severe side effects from cancer treatments. But why is this the case? Research suggests that gender stereotypes may play a role in the cancer experience.
A study conducted by a major cancer center found that cancer treatment often fails to take into account the personal needs of women. To improve support and recovery, the holistic and unique needs of women must be considered.
Let's look at some numbers: In a high-volume cancer center, 9 out of 10 men undergoing brachytherapy for prostate cancer were asked about their sexual health, compared to only 1 out of 10 women having brachytherapy for cervical cancer. Sexual function was discussed with 89% of men and only 13% of women at their initial radiation therapy consultation. In addition, 81% of men with prostate cancer had their sexual health assessed using a patient-reported outcome tool, compared to 0% of women.
Next to medical decisions, the way women tend to choose to fight cancer differs significantly from men. For instance, women often choose the most aggressive therapy, while men tend to approach the disease in a more deliberative and analytical way, considering the data first and then weighing the cost-benefit ratio. Women also tend to seek guidance from others who have gone through cancer treatment, building up a social support network, which men undergoing cancer treatment tend to lack.
FemTechnology Summit – Workshop on Women-Centric Cancer Care
For the Women-Centric Cancer Care Workshop at the #FemTechnologySummit in collaboration with Roche, we aim to explore how to shape cancer treatment and care after diagnosis.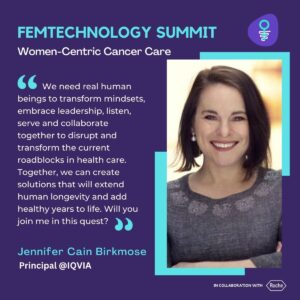 We are thrilled to announce that Jennifer Cain Birkmose will be facilitating this FemTechnology Summit workshop. Jennifer is a health tech co-founder, pharmaceutical executive, and TEDx speaker. Currently, she is the Principal of IQVIA, a leading global provider of advanced analytics, technology solutions, and clinical research services to the life sciences industry.
Join us in Basel, Switzerland June 6th and 7th!