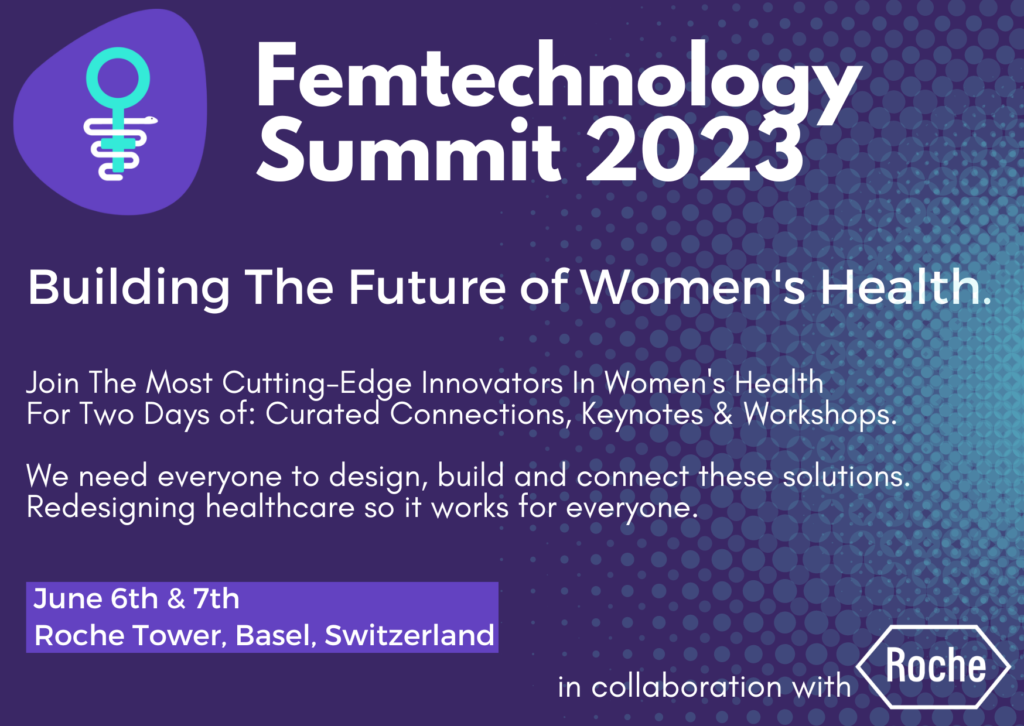 We are thrilled to be collaborating with Roche on our earliest initiative, the FemTechnology Summit, where we connect innovators in women's health for thought-provoking discussions in order to catalyze the change that has been needed for a long time! 
This year's summit will be held this
June 6th and 7th at Roche in Basel, Switzerland
so save the date! 
FemTechnology Summit will bring together 150 innovators in women's health for workshops designed to tackle collective pain points effectively. We'll be connecting startups, clinicians, researchers, corporates, designers, payers and discuss: 
The Gender Data Gap

Link Between Gender and Effective Therapy in

Medicine

Women-Centric Cancer Care

Financing Innovation In Women's Health 

Business Case for Women's Health 

Redesigning Healthcare with Women in Mind: a Lifecycle Perspective to Women's Health

ESG alignment on women's health

Role of the Clinician and Social Media in Women's Health
We want to hear from you to make the most out of this FemTechnology Summit!
Who's research inspires you the most? 

Are there any startups you have your eye on? 

What pain points are they specifically addressing, and are there any blockers in women's health you think aren't getting the attention it deserves? 
We encourage you to take a moment to fill out the form below. This will help us ensure that our content covers ALL the necessary topics.
… and stay tuned for more information and opportunities to participate! 
For more information please reach out to: contact@femtechnology.org