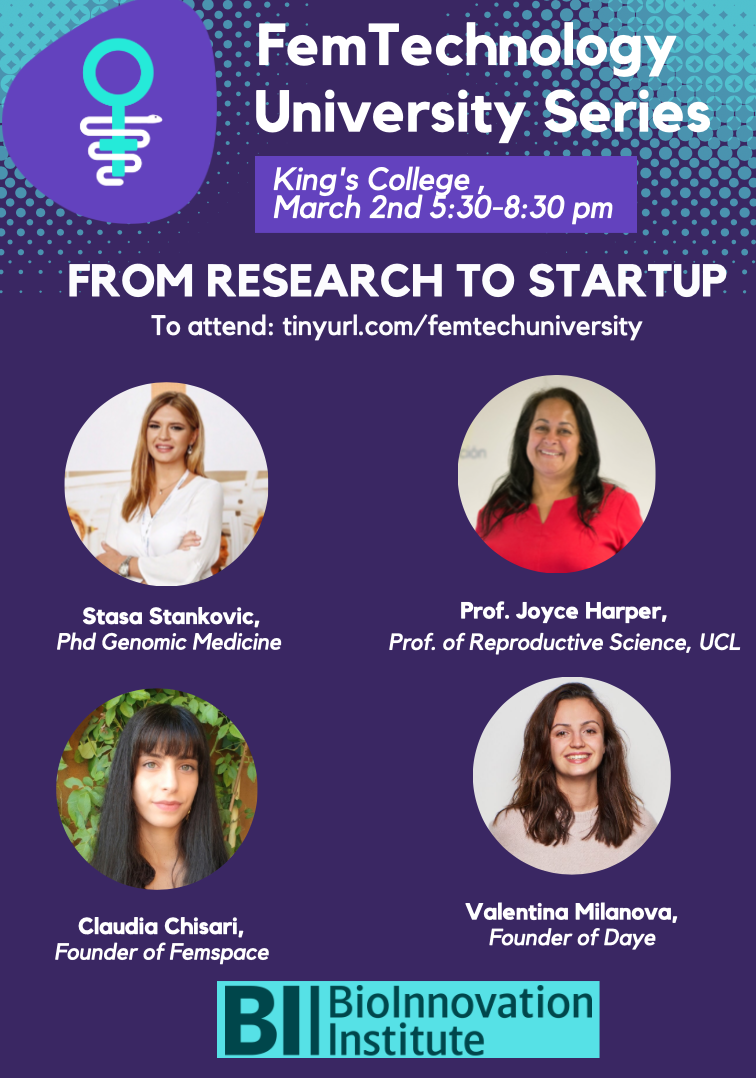 ?London – Join Us at King's College London
March 2nd
IN PERSON
from 17:30-20:30
For a panel, networking (and other fun surprises) to learn how to transition from research in #womenshealth to founding a #femtech startup.
To attend: https://lnkd.in/eNfWbGan
'From Research to FemTech Startup' features:
Valentina Milanova ??, Founder of Daye (the world's first and only tampon providing relief from period pain). Daye is overcoming gender biases in medical research + product innovation with the central hypothesis that you can use tampons for more than soaking up menstrual fluid (like detecting STIs & HPV or treating common vaginal infections)
Claudia Chisari, PhD, PhD in Vulvodynia, King's College London, the Founder of Femspace, a digital health company providing the first evidence-based online care platform for people with persistent pelvic pain.
Stasa Stankovic, PhD in Genomics, University of Cambridge, whose work combines human omics data with cell engineering and animal models to boost understanding of the genetics of reproductive health outcomes, paving the path towards prediction solutions and development of next-generation therapeutics
Joyce Harper, award winning Professor of Reproductive Science at the Institute for Women's Health, UCL. Founder of Reproductive Health at Work and International Fertility Education Initiative + co-founder of the UK Fertility Education Initiative.
The FemTechnology University Series is graciously supported by the BioInnovation Institute.
BioInnovation Institute supports women's health innovation by offering funding through programs for early-stage start-ups and entrepreneurial academic researchers: Venture Lab and Bio Studio.
What are you waiting for? Join us March 2nd to:
– connect and conspire with the next gen of builders and investigators in #womenshealth
– have your research featured at the event
– learn about Bio Innovation Institute's Women's Health Initiative
– get the chance to hear from our cutting-edge panelists
To attend: https://lnkd.in/eNfWbGan