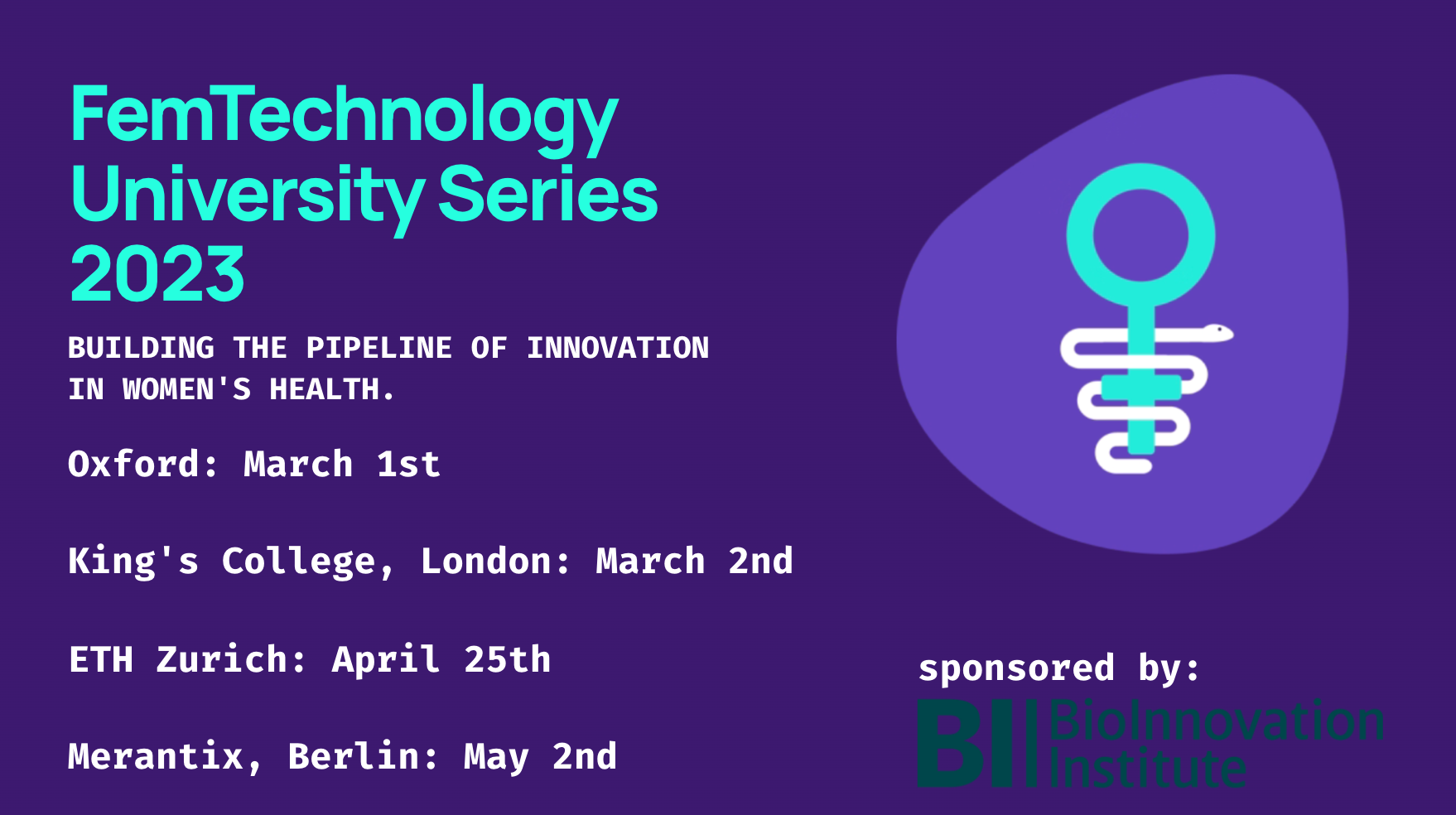 After successful kick-off events at Harvard Business School and Imperial College  in the Fall of 2022, our mission to build the pipeline of innovation in women's health continues with events planned in:
Oxford: March 1st
King's College, London : March 2nd
ETH, Zurich: April 25th
Merantix, Berlin : May 2nd
To reserve a spot please 
sign up
here.
The FemTechnology University Series is sponsored by
BioInnovation Institute whose, whose
aim is to strengthen the European ecosystem for innovative translational research and start-ups that address the high medical unmet needs within women's health. 
Parts of the Women's Health Initiative activities are supported by a grant from Bill & Melinda Gates Foundation.
BII supports women's health innovation by offering funding through programs for early-stage start-ups and entrepreneurial academic researchers: Venture Lab and Bio Studio. 

The FemTechnology University Series aims to build the pipeline of innovation in women's health by supporting and connecting the next generation of builders and investigators.
We are particularly interested in attracting academics and researchers in women's health-  but everyone interested in women's health is welcome to attend! 
Each event will feature groundbreaking researchers + startup founders in women's health with a Networking Session afterwards. 
17:30-17:45: Introduction
17:50-19:00: Panel + Presentation 
19:00-19:30: Discussion / Q&A
19:30-20:00 Networking 
Speakers will be announced on a rolling basis.
To reserve a spot please sign up here.
We'd appreciate your help in spreading the word about the series + any additional support you might be interested in providing — feel free to reach out to us at: contact@femtechnology.org with the subject : "University Series" in the heading.