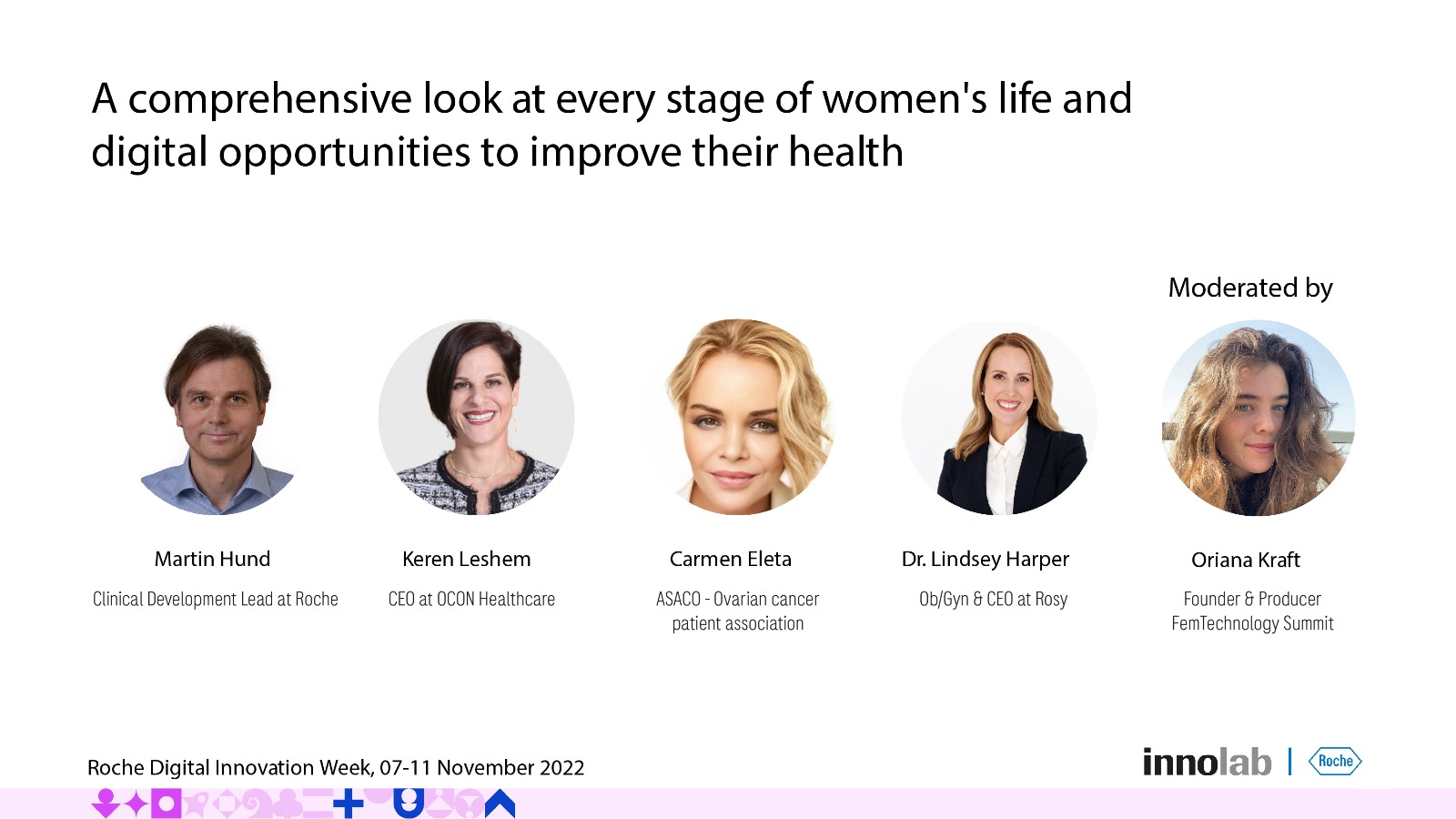 On November 8th 2022, Roche InnoLab hosted their digital innovation week- and FemTechnology Summit was a proud participant!
The second day of the week focussed on patient-centric care. FemTechnology Summit moderated the panel on "a comprehensive look at every stage of women's life and digital opportunities to improve their health". With this panel, the intention was to shift the focus from the prism of oncology to consider women's life in a holistic view. To analyse where digital health solutions can help support and improve health outcomes. The panel's aim was to explore the different stages and unmet medical needs for women's health.
The panel fused how to improve the patient journey with examining the dire landscape of women's health, showcasing the tremendous opportunity that exists at the moment to radically transform the way care is delivered – because healthcare is not static.
Healthcare at this moment in time in particular is radically evolving. With the cost of genetic testing going down radically, the more widespread adoption of telehealth (due to COVID representing an enduring paradigm shift in the way care is delivered), digital therapeutics and the implementation of DIGA in Germany. The very structure of our model of care delivery is changing – by necessity. The healthcare system is going to be forced to adapt because of a shrinking and increasingly burnt out healthcare workforce, an ageing population. Healthcare is  being reimagined as we speak.
This presents a tremendous opportunity to design a more equitable system of care. Because his one size fits all approach that healthcare has been taking – doesn't fit most of the population, doesn't fit 50% of the population in fact. So why not use it as an opportunity to reimagine the way things are done?
This was the prism and perspective this panel aimed to bring: looking at the patient journey, women's health, recognising the fact that women are faced with different diseases (or present differently: manifest different symptoms, experience different side-effects, have different needs and priorities) and challenging the audience to reflect on how an experience that works for 50% of the population might be re-imagined.
With panelists:
Dr. Lyndsey Harper: a Board Certified Ob/Gyn, Associate Professor of Ob/Gyn for Texas A&M COM, a Fellow of The American Congress of Obstetricians and Gynecologists, and a Fellow of the International Society for the Study of Women's Sexual Health.  Dr. Harper is the Founder and CEO of Rosy, a multi-award-winning women's health technology company that connects women who have sexual health concerns with community, and research-backed solutions. It is now recommended by nearly 5000 US healthcare professionals.
Keren Leshem: the CEO and a Director/Board Member at OCON healthcare. An innovative women's health company with a mission to introduce safer intrauterine drug-delivery technology to improve and impact women's health and quality of life She has recently invited to the World Economic Forum as a technology pioneer.
Martin Hund: the Director, Clinical Development Lead and Indication Lead Women's Health in Roche Diagnostics Solutions. He develops the clinical strategy in Women's Health driving the Medical Value development of the preeclampsia sFlt-1/PlGF test and the first serum companion diagnostic Elecsys AMH Plus, endometriosis and Polycystic Ovary Syndrome (PCOS).
Carmen Eleta: representative of ASACO, a patient association for those affected by Ovarian Cancer. She was diagnosed with colon cancer in 2005 and ovarian cancer in 2019 –Lynch Syndrome. She used her experience with cancer as a  process as a leverage for a new way of living from a better knowledge and connection of herself.
And moderator Oriana Kraft, Founder + Producer of FemTechnology Summit.