Here's a round-up of FemTech startups innovating in the birth control space + why we're excited about them!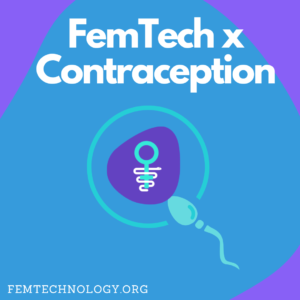 #1 Startups working on Non-Hormonal Forms of Contraception:
Phexxi : 
Phexxi is a contraceptive hormone-free gel, designed to be used before sex to prevent pregnancy. When semen enters the vagina, it raises the vagina's pH levels from its typical range of 3.5-4.5 to a range of 6.5-7.2. This increase in the pH of your vagina is what allows sperm to move and swim up the reproductive canal to reach the egg and cause pregnancy. Once inserted into the vagina, Phexxi maintains a normal vaginal pH and works to keep vaginal pH in the 3.5-4.5 range, which lowers sperm mobility. When sperm can't swim, it lowers the chance of them reaching the egg. Phexxi is already on the market in the U.S.


Oui (Cirqle Biomedical): OUI is a completely new approach to contraception that works by topically engineering the cervical mucus to provide effective contraception with minimal side-effects. It does this by using biopolymers that can reinforce the barrier properties of cervical mucus to prevent sperm from traveling through the cervix and thereby prevent fertilization. The biopolymer used is derived from either mushrooms or the shell of crustaceans and are already used in other FDA-approved medical devices. They conducted a trial with 30 animals, of which 0 of the 15 animals in the treated group became pregnant while 8 out of 15 animals in the control group became pregnant. Their current goal is to complete pre-clinical validation of OUI to start human clinical trials. Given that 49% of surveyed women in the US say it is either extremely or very important to them that their contraceptive does not contain hormones – this is an important step in the right direction for innovation in birth control.
Clue: The FemTech app that is best known for its period tracking feature, announced in 2021 that they will be rolling out an 

FDA-cleared and clinically tested digital contraceptive as an innovative way to prevent pregnancy. It works by tracking period start date to know which days you are at high risk of pregnancy. On high risk days, you must use a condom when having sex that may result in pregnancy. Since it's based on fertility awareness (when you are most likely to become pregnant), it's completely hormone free and side effect free. The algorithm behind Clue Birth Control was developed and tested in an independent clinical trial conducted by researchers at the Institute for Reproductive Health (IRH) at Georgetown University. 
#2 Revolutionising the way we prescribe / women choose their birth control:  
Tuune: Tuune is a precision medicine startup that leverages AI and biological testing to match women with contraception. They do this via an online health assessment, an at-home hormone test to assess your levels and scan for 6 key biomarkers, establishing a hormone symptom report to see the links between symptoms you might be experiencing and your hormones.
Lowdown: is a contraception review, advice and prescriptions platform where women can share their experiences with different types of contraception.
Dama Health: Dama Health offers women and clinicians personalised contraception recommendations using a genetic test and an automated matching system. Their approach takes womens' medical preferences, medical history and specific requirements into account and matches them up against suitable hormonal contraceptive medication types.
#3 Birth Control doubling as a form of pain relief:
OCON: OCON Healthcare creates novel contraceptive methods of the basis of their proprietary intrauterine ball (IUB) which doubles as a physiologically adapted intrauterine drug-delivery platform. Most notable are their : IUB™ SEAD™ (Spherical Endometrial Ablation Device), a new way to solve for Abnormal Uterine Bleeding (AUB) & Heavy Menstrual Bleeding (HMB)
and their IUB™ PRIMA™, a therapeutic-delivery to target therapy areas such as endometriosis and myomas as well as heavy menstrual bleeding and other hormonal solutions delivered directly through the uterus moving away from systemic side effects.
#4 Male Contraception ?
Several areas are currently being explored as viable forms of male contraception, though it is too soon to tell when and if they will reach the market. One example is the experimental male contraceptive called 11-beta-methyl-19-nortestosterone dodecylcarbonate, or 11-beta-MNTDC a modified testosterone that combines androgens and progesterone to decrease sperm production without affecting libido.
Another reversible type of male contraception in the form of topical gels is being developed. Nestorone or Testosterone Transdermal Gel for male contraception is designed to reduce sperm count while keeping the level of testosterone within the normal range.
The gel, applied onto the man's shoulders and upper arms once a day, is absorbed through the skin and contains progestin, which prevents the creation of sperm.
#5 New Research showing promise:
Scientists at the University of North Carolina at Chapel Hillare engineering molecularly tuned monoclonal antibodies that can be directly delivered into the vagina for a new type of non-hormonal female contraception. Scientists are now enabling a new application for antibodies: blocking sperm from reaching an egg.

#6 Enabling easier access to Contraception:
The pill club: Contraception delivered straight to your mailbox. All you have to do is fill out an online health profile. Then the medical team reviews, works with you to select the best option and prescribes it if you're a good candidate for the option you selected. Delivered to your door on time, every time.
Nurx : specialized, personalized medication — birth control, prescription skincare, migraine treatment, PrEP, herpes medicine and more, home tests for STIs, HPV and COVID-19 – delivered to you at home, by connecting you with their medical team from wherever you are.
These are just some of the startups working to build the future of contraception. For a more exhaustive list/ to get a better understanding of what the landscape looks like, what new forms of birth control might be coming down the pipeline, what unique challenges will be – make sure to register for the OCTOBER edition of the FemTechnology Summit, which will have a special focus on challenge and solutions in women's health for a college-age demographic. Sign up here Or if you additional questions/ would like to get in touch, feel free to reach out to us at : contact@femtechnology.org
Here at FemTechnology we believe innovation in women's health needs to be approached from a 360 degree perspective to catalyse true and enduring advancement – bringing together FemTech Startups, groundbreaking researchers, chief clinicians and end-users.
That's why we love shining a spotlight on FemTech startups we think are tackling meaningful areas of female health with an innovative approach – whether their approach takes a diagnostic, therapeutic, access, community-based etc. angle