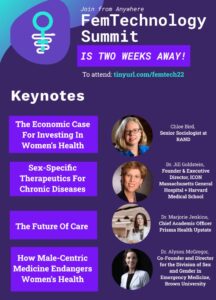 Did you know that investing $300 million in women's health research across just 3 diseases, would produce $13 billion in returns for the US economy? Or that men receive suboptimal care because of gender-blind medicine?
Osteoporosis is viewed as a 'grandmother's 'disease and as a result less than 20% of men seen in the emergency room for fractures get the appropriate follow-up they deserve, resulting in a higher likelihood of dying a year after a fracture.
Did you know that a woman's QT [the time it takes from when ventricles in the heart start to contract to when they finish relaxing] is longer than a man's? And that many prescription drugs – painkillers, antidepressants, antihistamines, antibiotics – cause incremental QT increases as a side-effect?
The risk of this for a women taking multiple medications (and statistically women are most likely to take multiple meds at the same time), can range from simple arrhythmia to sudden cardiac death?
#investing, researching and innovating in women's health is not just a moral imperative, but would be economically beneficial and improve the way medicine is practiced and delivered for the population as a whole.
Join the free + virtual FemTechnology Summit (www.tinyurl.com/femtech22) June 1 +2 to learn about:
–     The economic case for investing in women's health from Chloe Bird, PhD, FAAAS, FAAHB
–   Sex-specific therapeutics for chronic diseases Jill M. Goldstein Ph.D
–   The future of care Marjorie Jenkins, MD MEdHP FACP
–   How male-centric medicine endangers women's health from Alyson J. McGregor about
#health #femtech #medicine #research #gender #economy
To register : www.tinyurl.com/femtech22