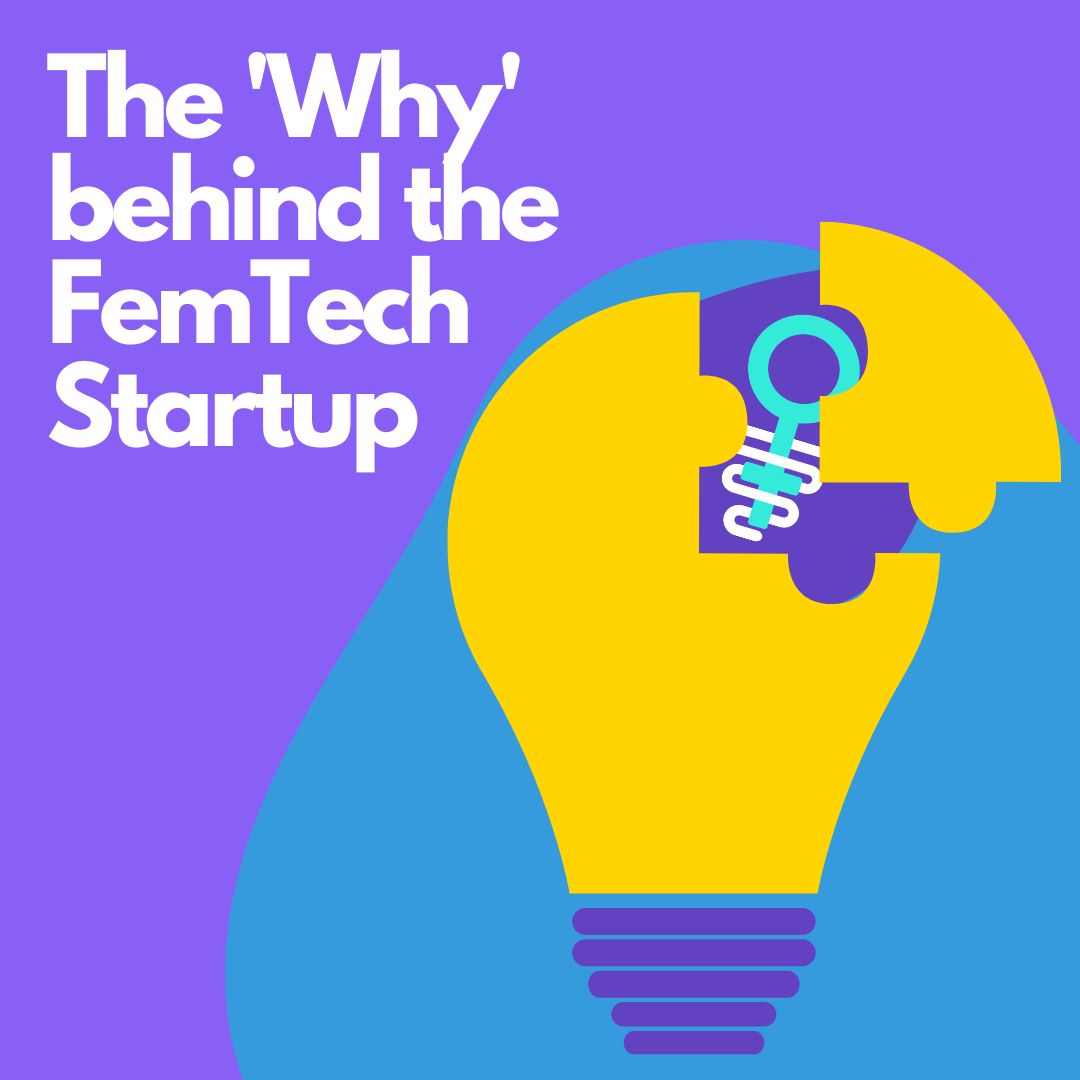 FemTech Startups face countless hurdles in order to get their product to market. Yet FemTech Founders persist. There seems to be an almost intrinsic drive and motivating factor – so we wanted to know: the 'why' behind the FemTech Startup.
Frederik Petursson Madsen, a Danish entrepreneur and CEO of Cirqle Biomedical (a startup seeking to create Oui, a hormone-free gel capsule designed to mimic the natural barrier of cervical mucus which sits between the vagina and the uterus) first started looking into new contraceptives when his girlfriend wanted to come off the pill due to unwanted side effects. He himself wasn't really aware of the problem.He believes that the lack of innovation in contraceptive design is down to a degree of ignorance among big investors (predominantly men). He realised he wouldn't want to use hormonal contraception either due to the side-effects. "There are not many other areas in which you have a product that's so important for society and where the existing standard of care is so outdated."
To listen to Frederik explain the origin story of Cirqle check out our 2021 FemTechnology panel on the Future of Contraception and fertility:
Sonali Quantius started Haplomind out of personal frustration, not being treated or screened nor treated for postpartum depression herself. Yet PPD is shockingly common: 1 in 7 women and 1 in 10 men experience perinatal depression and anxiety. And yet less than 10% get screened or treated on time. It shocked and frustrated her that despite radical advances in other areas of healthcare (like highly effective mRNA vaccines within a year) suicide still the biggest cause of death in new mothers.
To listen to Sonlai explain the origin story of Haplomind in her own words check out our 2021 FemTechnology panel on Innovative Tracking + Screening:
For Helene Guillaume, founder of Wild AI, the inspiration came from her own experience as a professional athlete. While training  as a rugby player, triathlete and ice swimmer, Hélène found that she couldn't predict her body or performance in the same way as her male counterparts. In her own words: "Women are not men. But the world didn't know. I was training like I had a male body – following the same protocols and types of nutrition. Sometimes my body would perform really well and I'd feel amazing, on track. Other times I'd feel less motivated and less ready." She knew her body was different from her male counterparts but in the circles she was in, assigned female bodies were dismissed as 'moody' and 'complicated'. There was no way for her to understand the variations that came with her menstrual cycle, which is what led her to found WILD.AI, a technology company helping those assigned female navigate these variations and optimise their training around their menstrual cycles.
To listen to Helen explain the origin story of Wild.ai in her own words check out our 2022 FemTechnology panel on Future of Care:
For Mette Dhyrberg, the inspiration behind Mymee, came from years of being treated by a healthcare system that did not know how to effectively identify and manage autoimmune diseases. From the very beginning, she believed that decoding the body's hidden patterns would lead to a truly personalized approach to disease management – and that is precisely what Mymee does : use data to reverse autoimmune triggers. To learn more check out our deep dive with Mette on How data can be used to reverse autoimmune triggers. 
For Helen O'Neill the true origin story of Hertility was wanting to check in on her own reproductive health. She found it strange that, as a lecturer at UCL, she was teaching students about the risks associated with advanced age and fertility, yet she did not have the tools to check the risks herself: there is an emotional and financial barrier to finding out about fertility. To be referred, you have to have been trying to get pregnant for a year.
Lina Chan started Parla – a platform and community to empower and support women navigating their fertility – after her own difficulties with the process. The impact it had on her physically and emotionally was tremendous and so she wanted to help others have a better, more empowered and confident experience.
To Listen to Lina explain the origin story of Parla and Helen explain the origin story of Hertility check out our 2022 FemTechnology panel on The Future of Fertility :
Marina Pavlovic Rivas, Founder of Eli Health, wanted to enable women to control of their health throughout their lives via a hormone monitoring product. Hormones are at the root of so many transitions and conditions women experience from puberty to menopause, yet they remain a black box.
To Listen to Marina explain the origin story of Eli Health in her own words watch our 2021 FemTechnology panel on Gathering Female Specific Data Sets by Innovative Means:
Chantelle Bell, Co-Founder of Syrona Health, got into the industry after her own difficulties navigating the healthcare system with chronic gynaecological health conditions. Syrona is a research-driven app and there has been a distinct lack of research within the field of gynaecological health, especially within Endometriosis.  To Listen to Chantelle explain the origin story of Syrona Health her own words watch our 2021 FemTechnology panel on Pain + Symptom Management in Gynecology:
Priyanka Jain, Co-Founder of Evvy, was curious about how data could be used to make informed decisions about women's health. In particular, she wanted to investigate which biomarkers of health are sitting in the female body unused – biomarkers that we never tracked or measured because women were not studied women. There are many things that the female body does uniquely that could be incredible measurements of women's health. These biomarkers could help us predict diagnose, treat or stratify the risk of disease as it manifests differently in the female body. The problem is we don't typically use any of those biomarkers because they don't exist in men so we never studied them.
To Listen to Priyanka explain the origin story of Evvy in her own words watch our 2022 FemTechnology panel on the Gender Data Health Gap:
Check out all these fabulous FemTech Founders and more at our 2021 FemTechnology Summit and 2022 FemTechnology Summit. And sign up early for our 2023 FemTechnology Summit here.