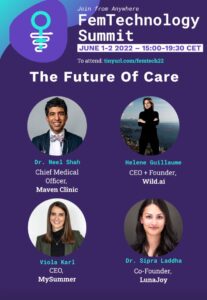 Femtech has a vital role to play in the #futureofcare. Women incur health expenses 80% higher than men—even though they aren't treated as quickly or as aggressively, are more likely to wait longer than men in emergency rooms, and are more likely to be told their pain is simply a result of emotional stress.
The fact of the matter is healthcare wasn't designed with women in mind: Women receive lower-quality care, pay more for care than men, yet receive worse outcomes. This gap doesn't disappear with age – it widens. Women are considered 'higher risk' because they tend to visit the doctor more frequently, have more complex medical issues — including pregnancy — and live longer than men.
So whether it's the drugs we use (in 90% of cases women experienced worse side effects from drugs due to the fact that drug dosages have historically been based on clinical trials conducted on men), to the research we conduct (nearly 3/4 of cases where a disease primarily affects one gender, so-called "men's diseases" are overfunded, whilst "women's diseases" are dramatically underfunded), or even way we deliver care – #healthcare has to be reimagined to give the entirety of the population the quality of care they deserve.
So join us June 1 + 2 for the #femtechnologysummit to listen to our terrific panelists speak about the #futureofcare featuring:
Neel Shah, Chief Medical Officer of Maven Clinic
Hélène Guillaume Pabis, CEO + Founder of Wild AI
Sipra Laddha, MD the Co-founder of LunaJoy (YC W22)
Viola Karl, CEO of My Summer
Register today for the free & virtual summit on June 1 + 2: www.tinyurl.com/femtech22
#health #research #medical #gender #clinicaltrials #womenshealth #womenshealthmatters