AI & the Gender Data Gap:
Facilitated by Lisa Falco
The gender data gap is a deadly one. Discover innovative ways companies are collecting gender specific medical data to close the gap and better understand female specific metrics.
Help us tackle the following questions?
– Will AI perpetuate the gender data gap even further? Or can it accelerate women's health?
– Which crucial data sets in women's health should be prioritised?
– By which innovative means might they be collected?
– What are the most effective ways to incorporate these findings into research, clinical practice and corporate settings?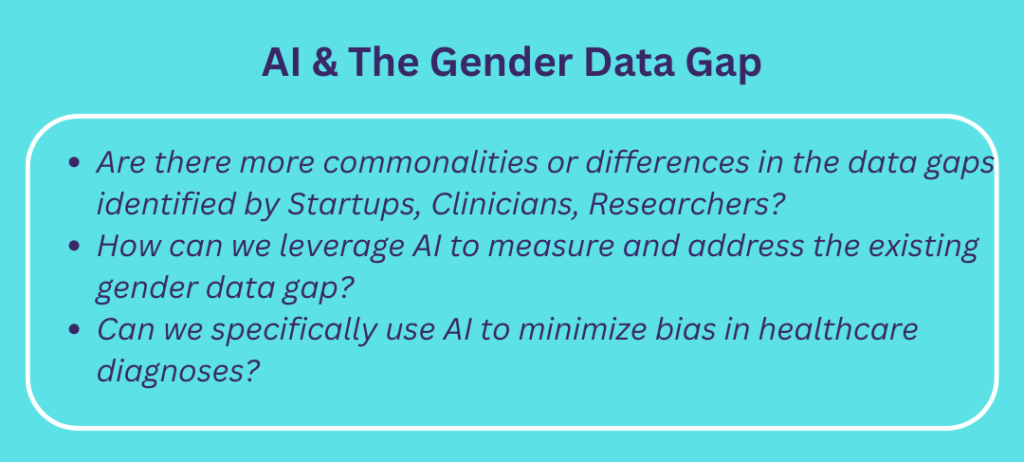 The Business Case for Women's Health Solutions:​
Facilitated by Anula Jayasuriya
85% of working-age women have experienced 4 or more women's health conditions. 60% of employers say they are facing challenges with attracting/retaining female talent. 25% of women said a women's health issue or condition had affected their opportunities for promotion. What is the cost to corporations/businesses in failing to support women's health? How can businesses better support women's health going forward? Which FemTech solutions & disease areas should be a priority to incorporate?
Women-Centric Cancer Care:
Facilitated by Jennifer Cain
Women are 34% more likely than men to experience severe side effects from cancer treatments. Different emphasis is placed on what is prioritized in care between women and men, for example a high-volume cancer center, 9 of 10 men undergoing brachytherapy for prostate cancer were asked about their sexual health, compared with 1 of 10 women having brachytherapy for cervical cancer.

It is also known that patient centric care leads to better outcomes for patients, yet women are less likely to receive patient-centric care or women centric care. There is a growing momentum to develop national Women's Health strategy and policies to define Women-Centered Care though no clear, universally accepted definition of Women Centric Care (WCC) exists and few studies examine how to implement or measure WCC.

Cancer treatment often fails to take into account the personal needs of women.  There is both a need and opportunity for Women Centric Care and specifically in Cancer to jointly as a healthcare ecosystem shape the global understanding of what Women Centric Cancer Care means and how it can be delivered.  How might we together improve the lives and health experiences of women by empowering them to make educated decisions and by delivering equitable and tailored cancer prevention and care?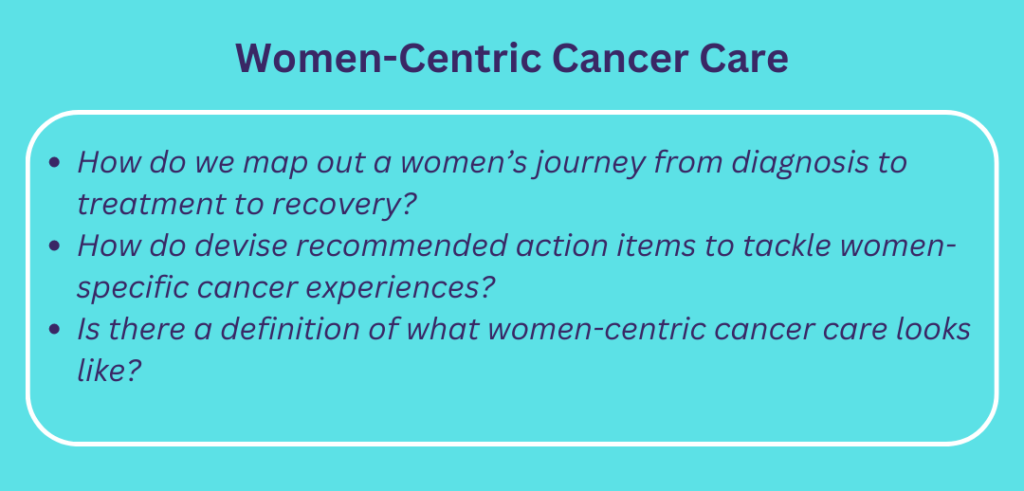 Financing Innovation In Women's Health:
Facilitated by Dr. Ana Costa & Pascal Joly
Approximately 1% of healthcare research and innovation is invested in female-specific conditions beyond oncology. As of 2018, just 4% of overall funding for research and development went to products and services specifically addressing women's healthcare. What strategies can be put in place to share the burden of development for novel innovative medicines in women's health? How can multi-stakeholders come together and clearly outline hurdles to build new workable paths and innovate on endpoints in underserved women's health conditions such as endometriosis, PCOS and fibroids?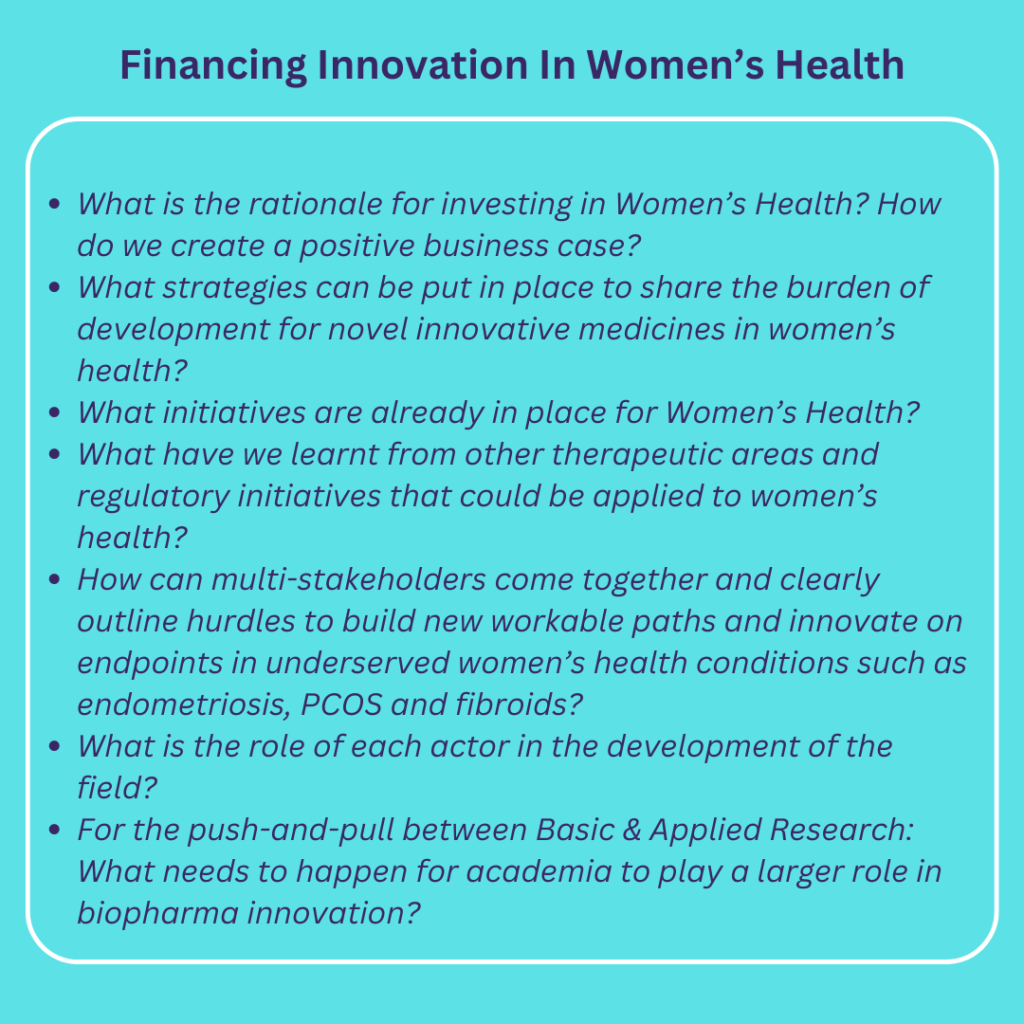 ESG Alignment in Women's Health
Facilitated by Claudia Navarro
How can we make women's health a priority in ESG frameworks? Ever since ESG became a governmental priority, people have increasingly started thinking about the under-representation of women in business, science and clinical trials. How can this be leveraged to make women's health a priority within governance and provision frameworks, especially given the passing of the EU's 'landmark' 40% quota for women on corporate boards?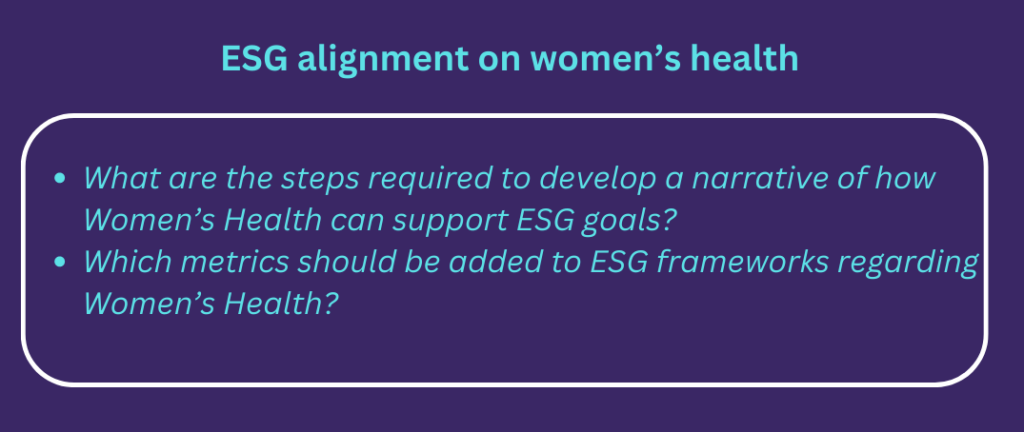 Redesigning Healthcare with Women in Mind: a Lifecycle Perspective to Women's Health
Facilitated by Paula Bellostas Muguerza
Modern medicine was not designed with women in mind. A notable example? Women's 'reproductive' health -puberty, pregnancy, menopause and beyond – is often treated in isolation from other organ system/ conditions with problematic implications. How can we ensure these monumental transitions are better integrated. Furthermore, if the prevalence and manifestation of diseases differs between men and women logically it should impact : the diagnostic tolls that are used, how care is accessed, what is considered a 'vital sign', what our definition of the baseline is what we screen for. Healthcare is undergoing a radical transformation – how should it be reimagined to cater for the needs of women as well?

The Role of the Clinician and Social Media in Women's Health
Facilitated byDr. Mitzi Krockover
According to the Women's Health Strategy for England, 84% of women responding to their survey felt healthcare professionals were not listening to them. This comes at a moment in time when Social Media is increasingly relied upon as a source of health information (33% Of Gen Zers now Trust TikTok More Than Doctors).
How can we use media (social, traditional or otherwise) as an effective educational tool? And what can be done to restore public faith in clinicians?